Dear colleagues in the MaterialDigital community,
We are very pleased to present you the ninth newsletter of the MaterialDigital platform! As always, the newsletter contains interesting facts and current information about the platform. One important message in advance: we will be present as PMD at international congresses twice more this year, at ACHEMA and MSE 2022.
ACHEMA 2022
This year's ACHEMA (Fig.1) will take place from August 22nd - 26th, 2022 in Frankfurt on the Main. In addition to employees of the platform, some of our projects will also be represented and present their work using demonstrators. On August 25th at 14:45, our colleague Henk Birkholz will give a presentation "Platform MaterialDigital - A Primer for Digitization in Materials Science and Engineering", followed by other exciting presentations. We look forward to seeing you there. Afterwards, there will be a "Get Together" at the BMBF booth starting at 17:30. Next to that you can find us every day in the morning at the BMBF booth A76 in hall 6.0. Please also feel free to make an appointment with us (email to info@material-digital.de). You can find the ACHEMA program here.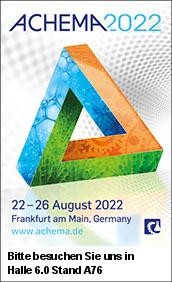 Fig.1 Logo of ACHEMA 2022.


MSE 2022
We are also very much looking forward to the MSE 2022 in Darmstadt/hybrid (Fig.2) to be held from September 27th - 29th, 2022. The platform is instrumental in organizing the symposium "M04: Digital Materials: Experiments, simulation workflows, ontologies and interoperability".
In addition to four keynote lectures in the Audimax, there will be many presentations and posters addressing modern developments around digitalization. In the entrance area of the Audimax, PMD and NFDI-MatWerk will have a booth for discussions and information. Please come by, we are looking forward to many visitors! The preliminary program can be found here, poster submissions are still possible until August 1st, 2022.
Abb.2 MSE 2022.


Workflow Meeting in Berlin
In addition to international congresses, the PMD also uses the opportunity of direct exchange on site. For this purpose, the workflow working group met on May 9th, 2022 in Berlin to determine, among other things, the focal points of the joint work. The following topics were identified, which are to be advanced with the associated projects:
Coupling workflow solutions and ontologies,
Integration of scripts to control workflows,
Focus on FEM simulations, and
Experimental workflows and ELNs.
Bitkom survey
The results of a recent survey by the digital association Bitkom clearly show that the topic of Industry 4.0 is ensuring greater sustainability in production. More and more companies are turning to Industry 4.0, but large companies are clearly leading the way, while SMEs still have some catching up to do.
Publication page
Have you already discovered our publication page? We will share publications on topics in which MaterialDigital employees were involved. This is intended to make it easier for interested parties to get started around the digitalization of materials. Also feel free to have a look at our Forum, there we now have set up areas for publications, also on more in-depth topics in individual PMD work areas.
Job postings on LinkedIn
Are you looking for a new challenge? Have you already seen our job postings on LinkedIn? Follow us and never miss a job posting again.
Save the date - General Assembly in Berlin/hybrid
On November 3rd, 2022, our second General Assembly will take place at the Federal Institute for Materials Research and Testing (BAM) in Berlin. The assembly will be hybrid: It is possible to participate both in the face-to-face meeting and online via a streaming platform. Please save the date already!
Thank you for your support and interest! Please continue to participate in the future! We need you, your feedback, and your cooperation, to advance this community project.
Thank you very much, best regards and have a nice summer,
The PMD team